Randy Howry
Partner
Practice Areas:
Plain and simple, Randy Howry is a real trial attorney. Having personally tried hundreds of jury trials, he is known by both clients and opposing parties as an attorney that will take a straight line to a jury to get full and fair compensation for his client if it is not offered voluntarily. There is simply no substitute for experience and results, and Randy brings both. As a founding partner of Howry Breen & Herman, Randy is experienced, aggressive, accomplished, Board Certified in Personal Injury Trial Law and Civil Trial Law, by The Texas Board of Legal Specialization, and is a known trial attorney that delivers results. The proof is in Randy's results.
Randy is successful for his clients because perceptive parties on the other side realize the result at trial against Randy could be much, much worse. In one instance representing a business harmed by another company, the opponent made a low-ball offer and dared Randy to try the case. So, Randy did—and secured a verdict eclipsing the pre-trial offer. Randy is working to track down the defendant and collect this judgment.
Randy's legal practice focuses on personal injury, products liability, catastrophic injuries, wrongful death, and commercial/business disputes. His mission is to fight to win his clients the best outcome possible while maintaining the trust and confidence his clients deserve.
Randy's skill has been acknowledged by top legal organizations such as the American Board of Trial Advocates, American College of Trial Lawyers and the International Academy of Trial Lawyers. Randy serves as the President of the Austin Bar Association, Austin Chapter of American Board of Trial Advocates, and the Austin Bar Foundation. He has served on the Board of Directors for the State Bar of Texas, Austin Bar Association, and the Austin Bar Foundation. Randy counts among his professional memberships the American Trial Lawyers Association, Texas Bar Foundation, Texas Trial Lawyers Association, and the Texas Center for Legal Ethics and Professionalism. Randy enjoys being involved in these and other organizations which help him ensure he stays up-to-date on current issues, developing law, and the legal climate in which he practices. He has been recognized multiple times in The Best Lawyers in America® (since 2006) (by BL Rankings, LLC d/b/a Best Lawyers and Co., LLC), Texas Super Lawyers® by Thomson Reuters (2003-2020), Martindale-Hubbell® (AV Preeminent® Rated) (since 2018), and Top American Lawyers (since 2017) and has been recognized in The Best Lawyers in America® for Bet the Company Litigation 2009 and Commercial Litigation 2006, (by BL Rankings, LLC d/b/a Best Lawyers and Co., LLC)
Raised in Georgetown, Texas, Randy knows and loves the Austin-Georgetown area. Family is everything to Randy. He and Julia, his wife of 26 years, share two children, Baker and Daniel. Though he now resides in Austin, he greatly enjoys his frequent visits back to Georgetown to see his mother, Georgia.
It's important to Randy to also treat clients like his family. He isn't afraid to tackle the complicated cases and aggressively pursue the best results for his clients. He knows those complicated cases take many hours, extensive resources, and long days, but he knows every second is worth it in his fight to secure his clients the outcome they deserve. This devotion to his clients is favorable and pays off. Recently, Randy spearheaded the prosecution of a case against a national corporate chain for the death of a young man on its premises, securing a confidential settlement and important changes from the defendant to ensure such a needless death not occur in the future to another family. Making a difference for and with his clients is paramount to Randy, and he is proud to call Howry, Breen & Herman home. It only makes sense that Randy would treat his clients and team like family too.
Randy obtained a Bachelor of Journalism from The University of Texas in 1980. Randy is a Longhorn through and through and still supports his alma mater by attending football and basketball games and other university events.
He obtained his law degree from South Texas College of Law, where he was President of the Board of Advocates, won national and state championships in multiple moot court competitions, and was awarded the Dean Garland Walker Award for Outstanding Student. He was named Alumnus of the Year in 2009. He currently serves on the South Texas College of Law Board of Directors.
Having come across so many great mentors in his own education, Randy knows the value that his experience can lend to others. He considers it his duty to help and work with future attorneys through education and mentoring. His commitment to this is seen in his continued involvement with his alma maters South Texas College of Law, of which he is a member of the Board of Directors, and The University of Texas, as an adjunct professor.
Randy is licensed to practice law by the State Bar of Texas. He is also admitted to the four United States Federal District Courts in Texas and in 2017, he had the great honor of being admitted to practice in the Supreme Court of the United States.
If you need an attorney in Austin, contact Howry Breen & Herman online or by phone at (512) 430-4844. We offer free initial consultations.
Education
J.D., South Texas College of Law, 1985
Bachelor of Journalism, University of Texas, 1980
Awards
Named the Best Lawyers® 2022 Litigation - Real Estate "Lawyer of the Year" in Austin, (by BL Rankings, LLC d/b/a Best Lawyers and Co., LLC)
7 Figure Litigators®, 8 Figure Litigators® by America's High-Stakes Litigators®, 2020
Named the Best Lawyers® 2020 Litigation and Trusts and Estates "Lawyer of the Year" in Austin, (by BL Rankings, LLC d/b/a Best Lawyers and Co., LLC)
Named the Best Lawyers® 2019 Litigation - Construction "Lawyer of the Year" in Austin (by BL Rankings, LLC d/b/a Best Lawyers and Co., LLC)
Named the Best Lawyers® 2012 and 2018 Litigation – Real Estate "Lawyer of the Year" in Austin (by BL Rankings, LLC d/b/a Best Lawyers and Co., LLC)
U.S. News - Best Lawyers® "Best Law Firm" 2020, Tier 1, 2 and 3 firm regionally ranked in 7 practice areas (by "U.S. News" and BL Rankings, LLC d/b/a Best Lawyers and Co., LLC )
Texas Super Lawyers List®, by Thomson Reuters, 2003 - 2021
Top 50 Central/West Texas Super Lawyers ®, by Thomson Reuters, 2006, 2008, 2009, 2010, 2014, 2021
Recognized in Best Lawyers in America® in Bet-the-Company Litigation, Commercial Litigation, Litigation – Construction, Real Estate, Regulatory Enforcement (SEC, Telecom, Energy), Trusts and Estates, Personal Injury Litigation, 2023 (by BL Rankings, LLC d/b/a Best Lawyers and Co., LLC)
AV Preeminent® Rating by Martindale-Hubbell® since 2018
America's Top 100 - High Stakes Litigators by America's Top 100 Attorneys®, 2017, 2019, 2020, 2021
America's Top 100 - Lifetime Achievement Award by America's Top 100 Attorneys®, member since 2018
Top American Lawyers, Lifetime Charter Membership since 2017
The National Trial Lawyers: Top 10 Business Tort Trial Lawyers 2012-2013
Recognition in The Best Lawyers in America© for Bet the Company Litigation 2009 and Commercial Litigation 2006, (by BL Rankings, LLC d/b/a Best Lawyers and Co., LLC)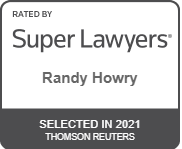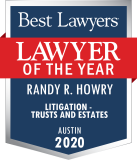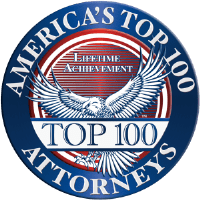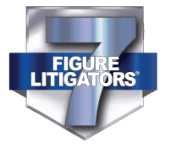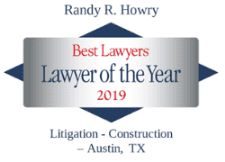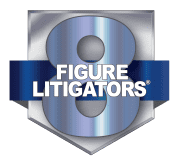 Certifications
Board Certified in Personal Injury Trial Law 1991 and Civil Trial Law 1992, by The Texas Board of Legal Specialization
Professional Affiliations/Organizations
American Board of Trial Advocates (Fellow)
American College of Trial Lawyers (Fellow)
American Trial Lawyers Association
Austin Bar Foundation (Founding Fellow)
International Association of Defense Counsel
International Academy of Trial Lawyers
South Texas School of Law Alumni Board of Directors
State Bar of Texas District 9A Grievance Committee
Sustaining Life Fellow, Texas Bar Foundation
Texas Trial Lawyers Association
The Texas Center for Legal Ethics & Professionalism
Top American Lawyers - Lifetime Charter Membership, 2017.
Williamson County Bar Association
Community Organizations
Austin Chamber of Commerce
Real Estate Council of Austin
Texas Beta Student Aid Fund
West Austin Youth Association

Contact Randy:
Office: 512-439-4101
Mobile: 512-751-8237