Austin Bus Accident Attorneys
Assisting the Victims of Serious Accidents
Many Austin residents rely on public transportation to get to work, school, or travel around the city. Also, many people take bus trips on the highway for business or personal reasons such as a group charter. Because of this, there are a large number of buses on our roads. Unfortunately, this leads to numerous bus accidents each year as buses collide with other motor vehicles, bicyclists, and even pedestrians, or have accidents due to product defects or poor bus driving. Due to their sheer size and weight, buses can cause catastrophic damage when such collisions occur.
If you were injured or your loved one was killed in a bus accident, we can help. At Howry Breen & Herman, we assist bus passengers, other motorists, bicyclists, and pedestrians who are injured as a result of negligence. Our team of dedicated Austin bus accident attorneys has extensive experience handling these types of complex claims. We are skilled and aggressive litigators who are prepared to fight for you and your rights, both in and out of the courtroom.
Injured in a bus accident? Call Howry Breen & Herman at (512) 430-4844 or contact us online to request a free, confidential case evaluation with our team.
Proving Fault in Bus Accidents
As with all types of personal injury claims, in order to pursue a bus accident injury claim, you must show that another person, company, or entity acted negligently and that this negligence directly or indirectly led to your injuries. If your loved one was killed in a bus accident, you must show that negligence led to your loved one's death in order to file a wrongful death claim.
A bus accident may be the result of negligence if it was caused by:
Distracted driving
Driving under the influence of drugs and/or alcohol
Careless or reckless driving
Bus driver error
Improper bus driver training
Insufficient or lack of proper bus maintenance
Failure to conduct bus driver background checks
Lack of adequate supervision
Defective bus design or faulty parts
Poor or faulty road design
It is important to note that this list is not complete. There are many different factors involved that can result in an accident, and many of these factors are caused by negligence.
Additionally, bus accident cases tend to be complex due to the numerous parties involved. There are many different types of buses, including municipal or city buses, school buses, and privately-owned transportation buses, like Greyhound buses. Because of this, it can be hard to determine who is responsible when an accident occurs.
Any of the following parties (or a combination thereof) may be responsible for a bus accident:
The bus driver
A private company that owns the bus
Local or city government
The bus manufacturer
An entity responsible for road design
Again, this list is not exhaustive. Our firm can help you work to determine who is at fault for your particular bus accident and work to hold those parties responsible for their negligence.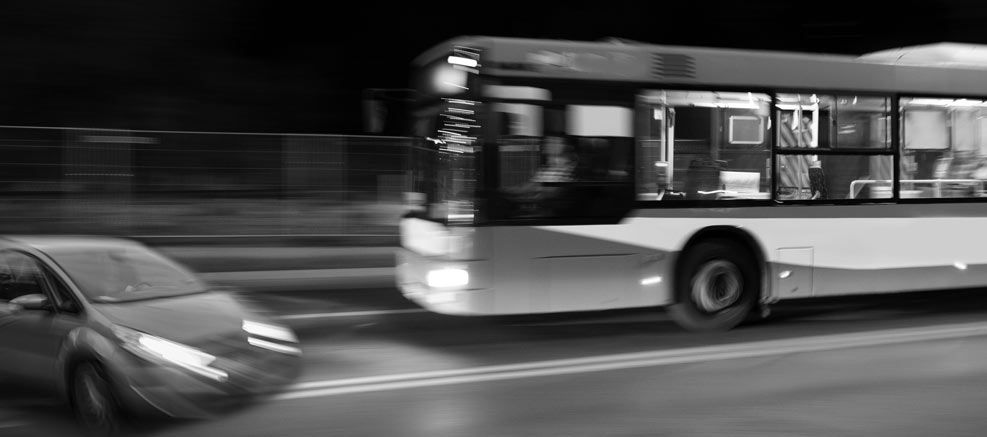 What Damages Can You Recover in Bus Accidents?
Bus accidents often result in catastrophic injury or death. Victims may suffer severe, life-altering injuries such as traumatic brain injury, spinal cord damage, paralysis, or accidental amputation. Even in relatively minor collisions, bus passengers and other victims typically experience injuries like cuts and lacerations, bruises, broken bones, and scarring. The cost of these injuries—both financial and emotional—can be overwhelming.
Financial recovery for your damages can be crucial in your healing process. While every case is different, many bus accident victims are able to recover compensation for the cost of medical treatment (immediate and future), lost income and/or wages, reduced or lost earning capacity, pain and suffering, emotional distress, and more. If your family member was killed, you may be able to recover compensation for funeral and/or burial costs, loss of companionship, loss of projected earnings, and more.
Buses are Common Carriers
A bus is considered a common carrier or a vehicle used to provide for-price transportation to people. Designating a bus as a common carrier is important in a personal injury claim because common carriers have a higher duty of care owed to passengers and other motorists than a typical driver. Under Texas law, a common carrier should use the same "foresight" to avoid accidents as a "very cautious, prudent, and competent" person would. If it can be proven that a bus driver was not using this heightened definition or sense of caution at the time of a crash, then a majority or totality of the liability can be placed on them and the parent bus company.
Discuss Your Legal Options Today
For nearly a quarter of a century, our firm has been serving clients throughout Austin, Georgetown, and areas all over Texas. We have helped countless individuals and families who had their lives forever altered by the negligence of another person or entity. Our Austin bus accident attorneys can help you work to recover the full and fair settlement or verdict you are owed. With extensive trial experience, we are not afraid to take on negligent parties in the courtroom. We offer compassionate, personalized legal services with a results-oriented approach.
To learn more about how our team can help you, contact us online or by phone at (512) 430-4844 and schedule a free case evaluation today.