Matt A. Kelley
Partner
Practice Areas:
Matt Austin Kelley is a Partner at Howry Breen & Herman, where he practices civil litigation, representing individuals in personal injury, premises liability, and commercial liability cases. Prior to joining the firm, Matt represented both plaintiffs and defendants in a wide variety of state and federal litigation, including civil, administrative, and criminal matters. In just four years of practice, Matt has represented license holders in professional liability disputes as well as other Texas lawyers in disciplinary proceedings before the State Bar Grievance Committee. He has successfully represented property owners and contractors in construction defect litigation. He has also represented employers in non-subscriber cases and individuals in large loss subrogation litigation. He has tried several defense cases to verdict—including for Fortune 500 companies—has secured multiple summary judgments and dismissals, and conducted numerous Daubert hearings in state courts across Texas with successful results. Matt has conducted more than 100 depositions and managed a docket of more than 75 active litigation cases at one time.
Matt holds his law degree from Texas Tech University where he graduated Magna Cum Laude. While in law school, Matt was a member of the Texas Tech Law Review and was chosen to serve as a Comment Editor his 3L year. Matt was also a member of Texas Tech's nationally-recognized advocacy group, the Board of Barristers. Matt competed in national moot court competitions where he advanced to the quarterfinals and semifinals.
Matt obtained his undergraduate degree from Texas A&M University where he earned his B.A. in Philosophy. While at A&M University, Matt enjoyed tutoring international students from across the world at the English Language Institute on campus.
Mr. Kelley was born in Tyler, Texas and grew up just outside of Austin in Dripping Springs. His father has his own law firm, and one of his three brothers is also an attorney. Matt enjoys running, cycling, listening to music and, spending time hiking the greenbelt with his wife and puppy when not working on a case.
Education
J.D., Texas Tech University School of Law, Magna Cum Laude, 2016
Dean's List
Texas Tech Law Review, Comment Editor
Board of Barristers, Member
B.A., Texas A&M University, Philosophy, 2013
Awards
National Academy of Personal Injury Attorneys - Top 10 Personal Injury Attorney under 40 in Texas (2022)
Attorney Intel: Top 50 Attorneys of Austin, 2022
The National Trial Lawyers: Top 40 Under 40, 2021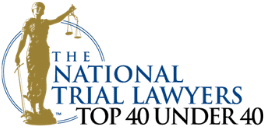 Professional Involvement & Organizations
Austin Young Lawyers Association
Texas Trial Lawyers Association
Licenses & Admissions
Supreme Court of Texas
Western District of Texas
Southern District of Texas
Eastern District of Texas
Northern District of Texas

Contact Matt:
Office: 512-439-4109
Mobile: 512-423-0777