Bicycle Accident Lawyers in Austin
Fighting for the Rights of Injured Cyclists & Their Families
---
Bicycle crashes are serious – they are so much worse than a car on car accidents. We know. We have handled hundreds of bike crashes and helped cyclists recover what they deserve after a crash.
As cyclists ourselves, we understand how important cycling is, and how devastating it can be to be hit on a bike and what it feels like to lose the ability or desire to ride. Our goal is to be the very best advocates for cyclists, get them a full recovery, and we work hard to help our clients get back up riding as soon as possible.
Once we get a case, our bicycle accident lawyers in Austin work with the police to get the facts and fault right, we guide you through medical treatment and billing, negotiate with insurance companies, and, when necessary, we file suit and go to trial to get you every penny you deserve.
Call (512) 430-4844 or fill out a confidential contact form to speak with an experienced bicycle accident attorney in Austin.
Information on this page:
---
We Are Advocates for All Cyclists
As Austin bike accident attorneys, we are advocates for all cyclists. That means commuters, racers, professionals, beginners, and advanced riders. If you ride a bicycle for any reason, for pleasure, for transportation, for sport, we advocate for your bicycling rights and safety.
We are here to protect you in the courtroom and on the road. By going after the inattentive drivers, the aggressive drivers, the texting drivers or the speeding driver who hit you, you send a message to other drivers and also insurance companies. You are saying we aren't going to take it anymore! Drivers and cyclists need to be mindful, drive carefully, and share the road. We both pay for it with tax dollars and we both need to obey the rules established on the road.
Was Your Bicycle Accident Caused by a Negligent Driver?
Austin is known as a vibrant and passionate cycling city. But as more people move here, more drivers clog the roads, and cyclists face greater risk. With many Austin residents choosing to cycle to work or simply ride for fun, bicycle accidents have become a fairly common occurrence.
Sadly, many of these accidents are the result of negligence. All too often, motorists use their cell phones and fail to notice or yield to bicyclists—with catastrophic consequences. Even with the proper safety gear, such as helmets and reflective clothing, bicyclists are relatively unprotected in the event of a collision, and they are the ones who suffer the most severe injuries.
If you or a loved one was involved in a bicycle accident and you believe another party is at fault, contact Howry Breen & Herman for a free consultation. Our Austin bicycle accident attorneys will help you determine if:
Another person or entity acted negligently; and
Their negligence led to your injuries or the injuries/death of a loved one.
With nearly 25 years of litigation experience, we are prepared to aggressively advocate for your rights throughout the legal process.
Who Is At-Fault for a Bicycle Accident?
Often times, insurance companies try to blame a cyclist for the accident. Under Texas comparative fault law, a bicyclist may recover compensation for their damages if they were no more than 50% at-fault for the accident. The at-fault percentage is decided by a jury if the matter proceeds to trial. For example, if the jury determines that a cyclist suffered $10,000 worth of damages, but was 30% at fault for the accident, the cyclist is entitled to recover $7,000 ($10,000 minus $3,000, or 30%).
To determine fault, the jury looks at specific circumstances involved in the accident. They will determine if the bicyclist, the motorist, or any other involved party acted negligently and, if so, to what degree they were responsible for the accident. While every situation is unique and it is therefore impossible to say exactly who was at fault for your accident, it is very common for a motorist to be mostly, or fully at fault. The cycling attorneys at Howry Breen & Herman have significant trial experience in handling complex issues involved in cycling accidents.
A bicycle accident may be the result of driver negligence if the motorist:
Failed to yield to a cyclist who had the legal right-of-way
Swerved, drifted or crossed into a designated bicycle lane
Opened a car door into the path of an oncoming cyclist
Made a right- or left-hand turn into an oncoming cyclist
Failed to share the road with a bicyclist
Of course, not all bicycle accidents are caused by negligent drivers. Poorly maintained roads, defective bicycle design, and even untethered dogs can all cause bicycle crashes. Sometimes, cyclists may fail to follow the rules of the road, running stop signs or red lights, failing to use hand signals, or riding on the sidewalk. In such instances, they may be found partially at fault for the accident and therefore entitled to receive a percentage of the full amount for their damages. Our attorneys know how to handle those situations to help aggressively prosecute the case and seek full recovery for the cyclist.
Types of Bicycle Accident Injuries
Like pedestrians and motorcyclists, bicyclists are particularly vulnerable to serious injury or death on the road. Without airbags and the "cage" of a passenger vehicle or truck, the cyclist will likely be directly hit by another vehicle and thrown from their bike. The higher the speed, the more likely the cyclist is to sustain a permanent or fatal injury. Common injuries from bicycle accidents include:
Abrasions and lacerations. Commonly referred to as "road rash," abrasions occur because of the friction between the cyclist's skin and the street. Debris from the accident may cause more serious skin or soft tissue damage, leading to dangerous levels of blood loss.
Broken bones. The impact of a crash may simply bruise a cyclist but will more often break bones. A break or other severe injury to the spine may result in disability or paralysis.
Head injuries. Helmets offer limited protection to cyclists. In a catastrophic accident, they will not protect the cyclist from traumatic brain injury. Examples of head injuries include concussions, skull fractures, brain contusions, and intracranial hemorrhages. Any serious brain injury may pose serious and lifelong consequences for the cyclist's ability to function.
Bicycle accident injuries can be excruciating and debilitating. They may require weeks, months, or even years of recovery time—some cyclists will never fully recover. No matter the degree of your injury, our legal team will fight for the compensation you need and deserve.

Recoverable Damages After a Bicycle Accident
The financial impact of a bicycle accident can be extreme because the injuries are so often severe. Extensive hospital stays get expensive and push the limits of most healthcare insurance plans. Missing time off work for so long also exacerbates the situation by halting income as expenses add up. As your chosen Austin bicycle accident lawyers, we will do all we can to get you as much compensation as possible.
The financial compensation that might be attainable in your bicycle accident claim:
Medical bills: All past, current, and future medical costs like hospitalization, rehabilitative therapy, and prescription medications can be paid to you through a successful settlement or verdict.
Lost wages: Any wages that you lost because you were unable to work can be rewarded to you through your claim or lawsuit, even if you are collecting a portion of your typical wages through disability insurance.
Pain and suffering: The emotional pain, physical agony, and mental scarring you are enduring due to your bicycle accident can be answered with compensation meant to help you find closure and a sense of justice.
Wrongful death: After losing a loved one in a bicycle accident, you can file a wrongful death claim for damages particular to their untimely passing, such as funeral expenses and their final medical bills.
What About Damage to My Bike?
If your bicycle is damaged our bicycle accident lawyers will assist you in getting it repaired or replaced. We never charge you a fee to resolve your property damage. In addition, this part of your case can be handled right away; you do not wait for your injury claim to be resolved. You may be entitled to the replacement value of your bike, not "depreciated" value insurance companies will try to offer you.
Texas Bicycle Accident Statutes of Limitations
In Texas, bicycle accident claims are regulated using the state's base personal injury claim statute of limitations of only two years. For nearly all bicycle accident cases, the statute of limitations will begin on the day the victim was hit by the negligent driver or pedestrian. Once two years have passed since that date, any claim you try to file as the victim of a bicycle accident will be invalid and the court will reject it before it ever gets a chance to be processed.
When an injury caused by a bicycle accident is not immediately obvious to the victim, the two-year statute of limitations will begin on the day that the injury does or should have become apparent. For example, a brain injury might not become noticeable until days or weeks after a collision when an MRI is ordered by a concerned doctor. However, this delay is rare, as it is assumed that a bicycle accident victim would be injured enough to feel their injuries and seek comprehensive medical care that same day.
What Laws Protect Bicyclists in Austin?
In addition to Texas bicycling laws, the city of Austin has certain laws meant to protect the safety of cyclists and others who share the road with them. Whenever cyclists ride on the street or on bicycle paths in Austin, they must follow all traffic control devices (signals, stop signs, etc.) and follow the general rules of the road. Additionally, cyclists in Austin can use the entire lane when cars are permitted to park on the right side of the road, but should ride as far to the right as possible when cars are not allowed to park on the side of the road or when a road has no lanes.
City statutes also require cyclists to yield the right-of-way to pedestrians and vehicles when cyclists are exiting from alleys, buildings, and driveways, and all children should wear bicycle helmets when riding. The law also stipulates that riding a bike on the sidewalk in certain areas of the city is prohibited; this includes certain blocks along Congress Avenue, Guadalupe Street, Brazos Street, Colorado Street, and other areas. You can see the full list of where it unlawful to ride a bicycle on the sidewalk in Austin here.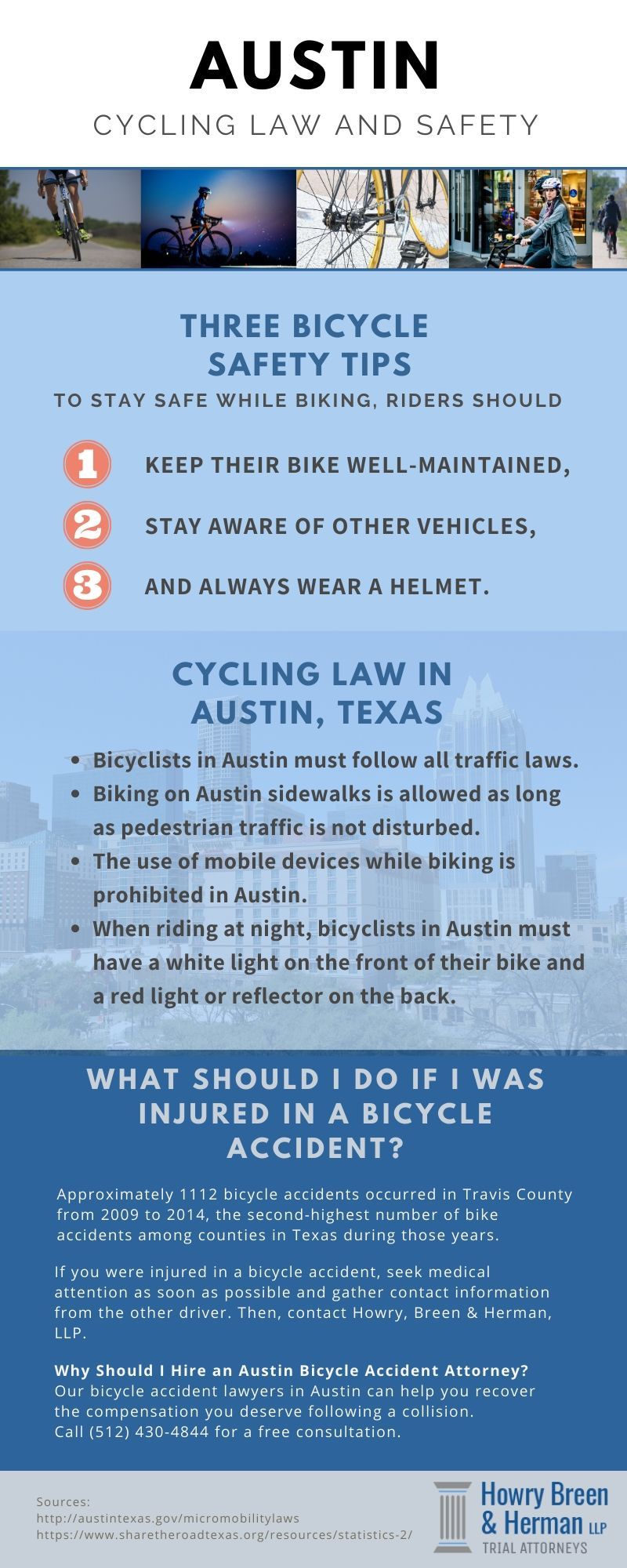 Evidence Collection & Preservation
The evidence that you can collect from the scene of your bicycle accident is only useful if it can also be preserved. Far too often, injured claimants encounter serious complications when pursuing compensation because they have lost the evidence they were intending to use for their case. Do your best to preserve every photograph, video, and testimony you collect.
Nowadays, digital evidence is far more common than physical, so you should be thinking about how you can back up any important digital files after your crash. For example, saving your pictures to your smartphone is not enough. You should also use your smartphone to email those files to yourself, where they will be saved to your email host's server as an attachment. Better yet, go to your computer, laptop, or tablet and save those attachments to a hard drive. In a matter of minutes, you will have made two backup files of what could be the best evidence you have for your bicycle accident claim.
Can Expert Testimony Help My Bicycle Accident Lawsuit?
Getting into the fine details of your bicycle accident could spell the difference between a successful case and one that ends in the defendant's favor. To create the clearest picture about what happened and why our attorneys can work with a bicycle accident reconstructionist. These professionals can effectively recreate the scene of an accident down to surprisingly small details in order to understand what unfolded. They can also make presentations to bring to court and act as expert witnesses for a testimony.
Contact an Experienced Attorney Today
Because of the many various factors involved, it is crucial that you speak with an experienced bicycle accident attorney in Austin if you were involved in a collision or cycling accident. These types of accidents often lead to extensive medical treatment and victims often have to take time off work to recover. In some cases, they are unable to return to work at all. In very severe cases, a bicyclist may be killed by a negligent motorist.
At Howry Breen & Herman, we help injured cyclists and their families fight for the full recovery they are owed. We can help you seek a fair recovery and financial compensation for medical bills, lost wages, pain and suffering, emotional distress, funeral costs, and other damages. No matter your unique situation, our firm is prepared to fight for you. Our attorneys are skilled trial attorneys who can aggressively advocate for you.
Our firm serves clients throughout Austin, Georgetown, and the surrounding areas. Call us at (512) 430-4844 or fill out a confidential contact form to schedule a free case evaluation today.
---
Related Informations: