Real Estate Litigation Lawyers in Austin
Handling Complex Residential & Commercial Real Estate Issues
Both residential and commercial real estate transactions involve many legal issues, including legally binding contracts and leases, title insurance matters, construction, and more. It is not uncommon for disputes to arise between two parties. When this occurs, it is important that you speak with an experienced and highly skilled real estate litigation lawyer in Austin, Georgetown, or the nearby areas.
At Howry Breen & Herman, we have helped clients dealing with complicated residential and commercial real estate litigation. Our team of trial lawyers has decades of courtroom experience. We are adept at navigating the legal process and working to secure the best possible outcome for our clients.
Our firm represents homeowners, businesses, condo and apartment owners, brokers, developers, title companies, and more.
Contact us online or by phone at (512) 430-4844 today to schedule a no-cost consultation with our team.
Representation for Residential Real Estate Matters
Residential real estate owners, including homeowners and landlords, face many legal issues. Residential real estate disputes can be incredibly complex due to the specific and unique factors involved in each individual case.
At Howry Breen & Herman, we employ a personalized approach to every case we handle. This allows us to better understand our clients' goals which, in turn, allows us to provide them with more effective representation.
Our Austin real estate litigation lawyers can assist you with the following residential real estate issues:
Contract disputes
Breach of contract
Land use issues
Title disputes
Landlord-tenant disputes
Quiet title actions
Deed restrictions
Evictions
Trespass and nuisance claims
Condemnation
This list is not exhaustive. If you are experiencing any type of residential real estate dispute or related matter, contact our firm for a free consultation. We can help you understand your legal options and litigate on your behalf.
Commercial Real Estate Litigation
A commercial real estate dispute can threaten your livelihood. At Howry, Breen & Herman, we understand what is at stake—that's why we take an aggressive approach to real estate litigation that centers on your unique needs.
When it comes to commercial real estate litigation, our firm can help you with the following and more:
Breach of contract
Contract and title disputes
Real estate fraud
Co-owner disagreements
Deed restriction enforcement
Contractor-developer disputes
Permitting issues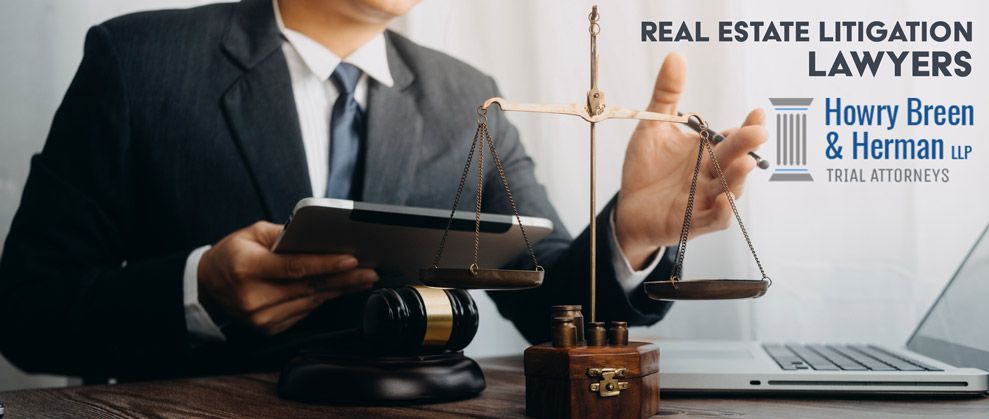 Why Do You Need a Real Estate Litigation Lawyer?
There are few areas of the law more complicated than real estate litigation. Even for a case that seems straightforward at first, it is not uncommon for multiple third-parties to have a say in the proceedings, rapidly adding to the complexity. The laws can also become entangled with rules mandated at municipal, state, and federal levels.
Given the many details in the average real estate litigation case, you will appreciate the help and guidance a real estate litigation attorney can bring. Without one, you will need to become familiar with all sorts of legalese in a hurry.
With a lawyer, though, you can continue to focus on other aspects of your life, family, and business while a trusted legal professional keeps your case progressing.
We are the Team Locals Trust
We have helped landlords, ranchers, farmers, small business owners, and large corporations with an array of commercial real estate issues. We understand the applicable federal, state, and local laws and can help you fight for the best possible outcome for your case. (see our attorneys award pages)
Call Our Award-Winning Attorneys Today
To learn more about how we can help you, call our office at (512) 430-4844 or fill out an online contact form and request a complimentary consultation.