Coronavirus Litigation Lawyers in Austin
Were You or Your Business Affected by COVID-19?
As the novel coronavirus, also known as COVID-19, continues to spread around the globe and across the United States, millions of people have felt the effects. Some employees have been instructed to work from home, while others have been let go entirely. Businesses have been ordered to shut down or move to partial operations. Medical practices have turned their focus to treating coronavirus patients, making it somewhat more challenging for injured individuals and those with non-critical care needs to get treatment.
Chances are, you too have been affected by COVID-19. If your health, finances, or livelihood have been threatened by the coronavirus pandemic and the government's reaction to it, you may be wondering about your legal rights and what options you have. You're not alone. Coronavirus lawsuits have already begun springing up in countless numbers across just about every industry. But which of these are valid? Who will actually be able to recover compensation for their losses? This is an unprecedented situation, and the answers to these questions are not yet fully known; however, most experts agree that we can expect to see a lot more coronavirus lawsuits as the months (and years) unfold.
Here at Howry Breen & Herman, we are committed to helping those who have faced significant hardships as a result of circumstances and actions outside their control. To that end, we've put together some helpful information on coronavirus litigation and what your rights are if you have been affected by COVID-19. Keep reading to learn more, or get in touch with us directly to speak to an Austin coronavirus litigation lawyer at our firm.
Call us at (512) 430-4844 or contact us online.
Coronavirus Business Interruption and Disruption Claims
Many business owners who have had to shut down entirely or move to partial operations due to COVID-19 are looking to their business interruption and business disruption insurance policies as a potential source of relief. But are coronavirus-related shutdowns covered by business interruption insurance?
Businesses should immediately get help to carefully review their existing insurance programs to determine whether adequate coverage is available for coronavirus and other infectious disease-related losses. While the scope of coverage will depend upon the specific terms of each insurance policy, a number of coverages may respond with insurance for the types of coronavirus losses that have been or may soon be experienced by commercial policyholders.
Business Interruption Insurance
As a consequence of the recent governmental shutdown orders and travel advisories/restrictions and increasing public fear over contraction of coronavirus, businesses located in areas of shutdown and where human contraction of coronavirus has been concentrated may experience significant disruptions. Business interruption insurance may respond with coverage for these income losses.
Typically purchased as part of a company's commercial property insurance policy, business interruption insurance is intended to protect businesses against income losses sustained as a result of disruptions to their operations. Contingent business interruption coverage similarly provides insurance for financial
losses resulting from disruptions to a business's customers or suppliers, usually requiring that the underlying cause of damage to the customer or supplier be of a type covered with respect to the business's own property.
In many commercial property insurance policies, business interruption coverage is triggered when the policyholder sustains "direct physical loss of or damage to" insured property by a covered cause of loss. In the event of a claim for coronavirus-related business interruption, certain insurance carriers may dispute whether this "physical loss" requirement has been met.
Policyholders should keep in mind, however, that courts across the country have not settled upon a uniform rule for when insured property has suffered a "physical loss." Courts in a number of jurisdictions have determined that contamination and other incidents that render property uninhabitable or otherwise unfit for its intended use constitutes a "physical loss" sufficient to trigger business interruption coverage. The determination of whether "physical loss" has occurred will therefore continue to require a close examination of the particular facts of each case.
Other specialized insurance policies and extensions of coverage added to standard property insurance policies—including those sold to policyholders in the hospitality and health care industries—expressly provide insurance coverage for losses caused by "communicable or infectious diseases" without requiring physical damage to insured property. Notwithstanding the potential availability of coverage under standard business interruption insurance, businesses especially concerned about the risk of disruptions occasioned by communicable or infectious disease outbreaks should consider whether to also purchase "communicable or infectious diseases" coverage.
In addition, many commercial property insurance policies provide coverage for business income losses sustained when a "civil authority" prohibits or impairs access to the policyholder's premises. Depending upon its specific wording, a policy's "civil authority" coverage may or may not require that the access restriction result from "physical loss" by a covered cause of loss and, if so, often does not require that "physical loss" occur to the policyholder's own property. Accordingly, in the event that a federal, state, or local governmental authority limits access to or from areas where active transmission of an infectious disease has been identified, "civil authority" coverage may respond with insurance for the attendant income losses of affected businesses.
Finally, some forms of political risk insurance may afford coverage for business interruption losses suffered by a foreign entity's operations in the host country resulting from local government regulatory actions. While disruptions resulting from a health edict such as that regarding the coronavirus may not constitute "expropriation" or contract frustration, many political risk policies afford coverage for business interruption, even when there is no physical damage to the business, for actions taken by the host country's government.
It may still be in your best interest to file a business disruption claim if you have suffered financial harm as a result of the government's reaction to the pandemic. Contact us for a free evaluation. Plus, filing a claim will create a record of your damages should the government ultimately provide relief to affected business owners.
Workers' Compensation for Coronavirus
If you were exposed to or contracted COVID-19 while at work, you may be wondering if you are eligible for workers' compensation. Again, the answer is unclear. In general, in order to recover workers' compensation benefits in Texas, you need to show that your injury or illness was the direct result of your work-related duties or workplace environment. Proving that you contracted coronavirus at work is not only extremely difficult, but it may also be irrelevant. Most workers' compensation policies exclude coverage for common illnesses, such as colds and flus.
If you fell ill and were unable to work or were instructed to not come into work because you may have been exposed to coronavirus, you may have other options for relief, including taking leave under the Emergency Paid Sick Leave Act or the Emergency Family and Medical Leave Expansion Act. If your place of work has shut down completely due to the current health crisis, or if you were let go, you could qualify for unemployment.
If you are already receiving workers' compensation benefits you may be worried about how the pandemic could affect your ability to receive medical treatment. In response to COVID-19, Governor Greg Abbott approved a request by the Division of Workers' Compensation (DWC) to suspend certain workers' compensation requirements, thus making it easier for injured workers to continue receiving the treatment and benefits they need. Contact us for more information.
Coronavirus Lawsuits Against Nursing Homes & Cruise Ship Lines
Both nursing homes and cruise ship lines are expected to be hit hard by coronavirus lawsuits in the coming weeks. In fact, many nursing home facilities and cruise ship lines have already been met with legal action for allegedly failing to respond properly or quickly enough to coronavirus outbreaks.
If you have a loved one who contracted coronavirus in a nursing home or long-term care facility and are wondering about your legal options, know that this situation is anything but black and white. In order to bring a lawsuit against the facility, you will need to show that its staff was negligent or otherwise acted wrongfully and that this led to your loved one's illness and/or death. Many nursing homes, including those that experienced coronavirus outbreaks, were simply unprepared for the scale of the crisis; whether or not they were negligent in their treatment of patients is an entirely separate matter.
The same is true if you or a loved one was exposed to or contracted COVID-19 aboard a cruise ship. For legal action to be successful, one must prove that the cruise ship line and/or its staff acted negligently or wrongfully, and that this led directly to your damages.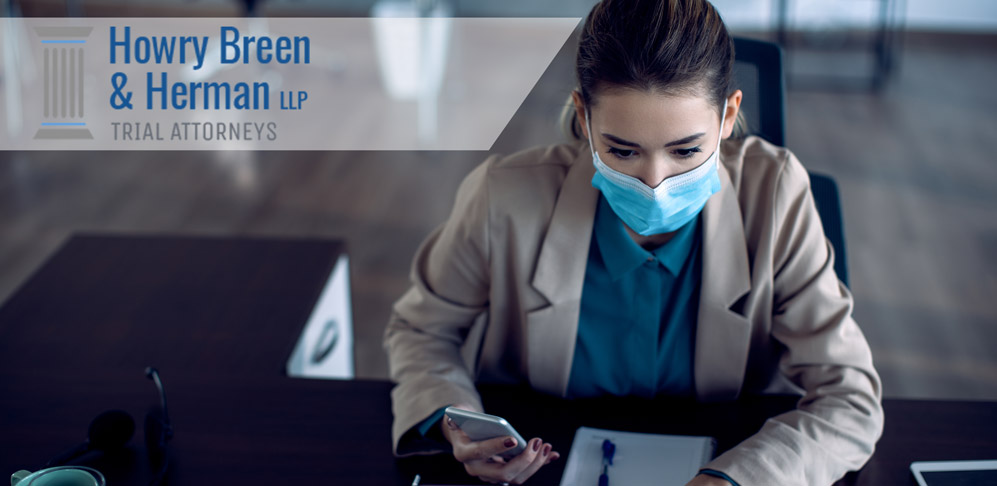 Our Firm Is Here to Help
Because this is such an uncertain time, and something that we have not seen before in the U.S. in modern times, the legal implications of the coronavirus pandemic and the reaction to it are equally as uncertain. However, this does not mean that you do not have rights! If you have been affected by coronavirus, it is very possible that you may have a number of legal options for recourse.
We encourage you to reach out to our Austin coronavirus litigation lawyers to learn more about what you can do in the wake of the COVID-19 pandemic and how our firm can help. As always, we are here to provide the answers, guidance, and support you need.
Contact Howry Breen & Herman online or call our office at (512) 430-4844 to request a free consultation today.