Howry Breen & Herman Files Lawsuit in San Francisco, CA Against Manufacturer—For Brain Injuries to a Child Caused by Defective Toy Buggy
Howry Breen & Herman (along with co-counsel Ara Jabagchourian) filed suit today against The Step 2 Company in the Northern District of California, San Francisco, CA.
Step 2 manufactured a defective toy wheeled buggy (known as the Step 2 Push Around Buggy) used for carting around small children and toddlers. The U.S. Consumer Product Safety Commission instituted a product recall on the defective buggy because a pin can become dislodged and the handle breaks away causing the buggy to become uncontrolled by its handler. Howry Breen & Herman along with Ara Jabagchourian represent a child who sustained traumatic brain injuries when his buggy careened down a hill and smashed into a wall.
Head and brain injuries have serious lifelong consequences for both victims and their families. Our firm assists victims of defective products by working to hold the negligent parties accountable. We have nearly 25 years of experience handling all types of complex cases. Recently, our firm achieved the largest, number one jury verdict in the Austin area on behalf of the family of a woman who was hit and run over by a defective, runaway E-Z-GO golf cart/utility vehicle, rendering her quadriplegic. We were able to secure a verdict of $16 million—the highest verdict in Austin to date—for her family.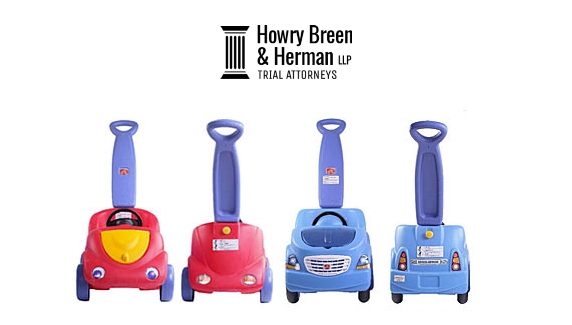 Posted By
Howry, Breen & Herman, LLP
Categories: